Tristan Tarwater Fantasy Author - GE51
Download
(243)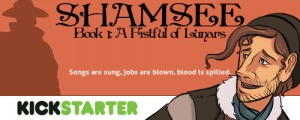 Tristan J. Tarwater is kickstarting her debut graphic novel illustrated by Adrian Ricker.  Shamsee: A Fistful of Lunars is set in the world of Valley of Ten Crescents containing Tristan's novels Thieves at Heart (FREE eBook from Amazon), Self-Made Scoundrel, and Red Moon Rising found at Back That Elf Up.
Jonathan is proud to be a backer of the Kickstarter project.  The Shamsee: A Fistful of Lunars project is fully funded but needs YOU to reach its important stretch goals: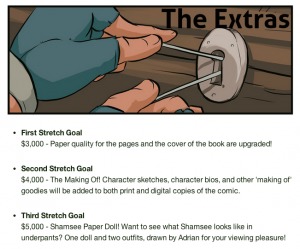 You can stay up to date with Tristan on Twitter, Facebook, and her blog.  Don't forget one new page of Shamsee is released every Wednesday at ShamseeComic from now until all 100+ pages are posted.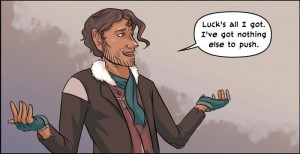 Mailbag
What do you think of of the Shamsee graphic novel?
---
Review Us…Please!

If you like what you hear and you use iTunes to get our content we ask a favor of you. Please consider rating us on iTunes.
iTunes is one of the most popular ways for listeners to find podcasts.  Help potential listeners find a show you enjoy.
Recent Review
pagan_knight left a 5 star review titled "Great podcast" saying "Entertaining and informative podcast covering various topics of interest to geeks and gamers, including television, movies, games, local cons/events, etc."
---
Like What You Hear?
You'll want to check out Jonathan's other podcast: Wargaming Recon, a historical wargaming podcast with new episodes every other Monday.
---
Leave Feedback
Be sure to tell your friends about Geeks Explicitly. You can contact us by e-mailing GeeksExplicitly@gmail.com, follow us on Twitter @GeeksExplicitly, or Like our Facebook page.
Also, listen to us on iTunes!
Many thanks to Jeremy Kostiew for creating our logo. Check out his work at MightyNightGaunt.com.
If you like Geeks Explicitly, then you're sure to like the other shows on the Troll in the Corner Podcast Network.
Our Theme Song

Our intro song is "I Wish I Were" by Matthew Ebel. Please give his other music a listen at www.matthewebel.com.
This recording is licensed under a Creative Commons BY-NC-SA 3.0 license.